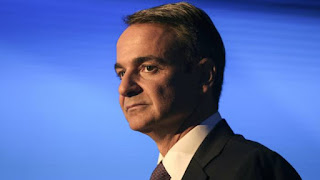 by Tony Barber

Financial Times
September 19, 2019
Ten years ago Greece plunged into a debt crisis that threatened to sweep away much of the political, social and economic progress achieved after democracy replaced military dictatorship in 1974. The economy shrank by a quarter, unemployment soared and Greece came close to crashing out of the eurozone. The crisis tore at the fabric of society and demolished one of the two political parties that had alternated in power since the return of civilian rule.
Today, on the face of things, the emergency is over and the outlook is bright. The authorities have lifted capital controls, imposed four years ago. Greece's 10-year bond yield touched an all-time low in July. Consumer confidence is at its highest level since 2000. Elections in July produced a comfortable parliamentary majority for New Democracy, a conservative party committed under prime minister Kyriakos Mitsotakis to a well-designed programme of economic reform, fiscal responsibility and administrative modernisation.
New Democracy's victory represented the delayed revenge of the Greek bourgeoisie against the Syriza party, which came to power in January 2015 as the most radical leftist government seen in a European democracy since the second world war. However, even critics of Alexis Tsipras, Mr Mitsotakis's predecessor, ought to acknowledge that some of the credit for Greece's recovery goes to the Syriza leader, who eventually swallowed the medicine prescribed by Greece's creditors.