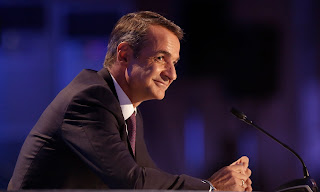 by Helena Smith

Guardian
September 8, 2019
Greece's prime minister, Kyriakos Mitsotakis, has pledged that after almost a decade of being dependent on international rescue funds, his debt-stricken country will soon prove to be a "pleasant surprise for Europe".
With investor confidence in Greek bonds better than at any time in the past 10 years, Mitsotakis said the country long at the forefront of the euro crisis had finally turned the corner. "Greece is no longer Europe's black sheep," he told the Thessaloniki trade fair, where Greek leaders traditionally outline economic policy.
"It is a country with self-confidence now," he added in the keynote speech on Saturday.
Addressing Greece's business elite two months after his centre-right New Democracy party ousted the leftist Syriza on a platform to revamp the economy, Mitsotakis said implementation of fast-track reforms to modernise the state and cut red tape were a priority if the EU member was to regain political credibility.