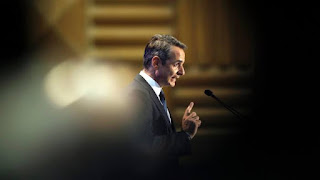 by Kerin Hope

Financial Times
September 8, 2019
Greece's new prime minister, Kyriakos Mitsotakis, has announced tax cuts and structural reforms aimed at rebuilding the country's credibility with investors, after three international bailouts and a grinding eight-year recession.
"Greece has turned a page," the prime minister said in a speech on Saturday evening to businesspeople in the northern city of Thessaloniki. "Greece is no longer the black sheep of the EU, we're a self-confident country now."
The premier said the country was still committed to achieving high primary budget surpluses — before debt repayments — of 3.5 per cent of gross domestic product in 2019 and 2020, as agreed with European creditors.
Mr Mitsotakis hopes that if Greece delivers on reforms, the 2021 surplus targets will be cut to 2 per cent of GDP, freeing up funds for public investment projects frozen during years of austerity.