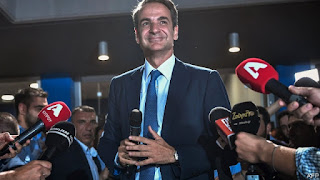 Economist
July 8, 2019
Greece's center-right New Democracy party (ND) comfortably won a snap general election on July 7th, capturing 39.9% of the vote to 31.5% for the left-wing Syriza party of Alexis Tsipras, the current prime minister.
The result fell short of the sweeping victory for ND predicted by some pollsters, but gives the conservatives a workable overall majority with 158 seats in the 300-member parliament, thanks to a bonus of 50 seats that is awarded to the party that wins the most seats under Greece's modified proportional representation electoral system. Syriza will have 86 seats.
This means that Kyriakos Mitsotakis, the ND leader, has enough seats to govern without having to form a coalition, unlike his predecessors as prime minister during the Greek debt crisis that has consumed the past decade.
The former McKinsey consultant has bold plans to overhaul the country's creaking bureaucracy, attract foreign investment and create enough new jobs to stem the exodus of skilled young workers. He will face opposition from Syriza's placemen in the civil service and regulatory bodies. Yet some worry that when Mr Mitsotakis's political honeymoon is over, old rivalries and clientelism in ND will resurface and undermine his efforts to reform. Others see him as just the latest manifestation of the old dynastic establishment that got Greece into trouble in the first place. He is the son of a previous prime minister; his older sister served as mayor of Athens; and the mayor-elect of Athens is her son.