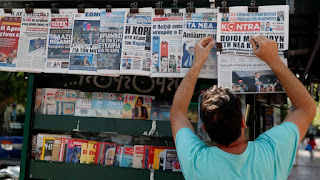 by Yascha Mounk

Atlantic
July 9, 2019
A few short years ago, the far left was resurgent. Fringe politicians such as Britain's Jeremy Corbyn, Greece's Alexis Tsipras, and France's Jean-Luc Mélenchon were turning into the standard-bearers of the mainstream left. Meanwhile, in the United States, Bernie Sanders was staging a surprisingly robust primary challenge against Hillary Clinton, the anointed heir to the Democratic Party.
Progressive commentators, activists, and politicians argued that the far left was about to conquer Europe, and that the best way forward for Democrats was to ride the red wave to victory. "Jeremy Corbyn has given us a blueprint to follow for years to come," wrote Bhaskar Sunkara, the founder of Jacobin. Representative Ro Khanna, the leader of the Justice Democrats in the House, argued that the populist message adopted by leftist leaders in Europe "is not just morally right—it's also strategically smart."
But reports of socialism's resurrection were greatly exaggerated. Recent electoral defeats in Europe suggest that the much-heralded red wave crested before it reached the shore.