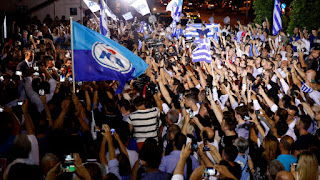 by Kerin Hope

Financial Times
July 8, 2019
A triumphant Kyriakos Mitsotakis was sworn in as Greece's new prime minister on Monday after leading his New Democracy party to a resounding election victory.
"The people of Greece gave us a strong mandate yesterday to change this country. We will honour it to the full. The job begins today and I am absolutely certain we have the capacity to complete it," Mr Mitsotakis said as he took the oath of office on a bible proffered by Archbishop Ieronymos of Athens, head of Greece's Orthodox church.
The son of a centrist prime minister who tried unsuccessfully to reform Greece in the 1990s, Mr Mitsotakis has much to prove following Sunday's convincing win. As a New Democracy MP he was rarely considered for even a junior minister's post, even though he belonged to a powerful political dynasty. Now he has earned the top job by dint of his own efforts.