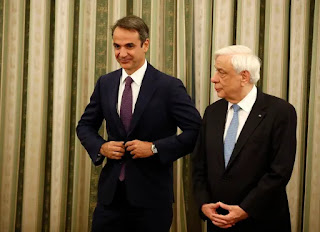 by Anne Applebaum

Washington Post
July 9, 2019
It may have been the worst recession to hit any economy in modern times. Between 2007 and 2014, Greece lost a quarter of its economy; hundreds of thousands of people moved abroad; unemployment peaked at almost 28 percent, hitting nearly 1 in 3 of the working population. Extremist parties of the far left and far right came to power, railing against shadowy foreign enemies, spinning dark conspiracy theories and making impossible promises.
Under their leadership, the crisis grew worse. In the summer of 2015, the Greek government, led by a former young communist, Alexis Tsipras, nearly crashed out of the euro, the common European currency. Tsipras called a defiant referendum that rejected the terms of the bailout proposed by the European Commission, the European Central Bank and the International Monetary Fund, as well as the budget austerity that it required. There were rumors of military coups and the beginnings of a financial panic. In a stunning reversal, Tsipras threw in the towel a week later and accepted the terms anyway.
And then, somehow … it worked. The Greek economy turned the corner. Last summer, the country graduated from the European bailout program after eight years. Growth has returned, slowly. Unemployment is decreasing, also slowly. Most of all, democracy, though severely challenged, did not collapse, and that meant that alternative visions for the country's future were allowed to gain strength. Greeks began asking if there weren't better ways to run the country, and began tossing around words like "liberalism," even "neoliberalism." Now they might get to try some of them.