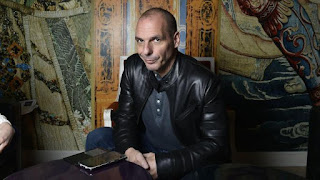 by Anthee Carassava

The Times
September 30, 2019
He made his name as the face of the anti-austerity movement but Yanis Varoufakis, Greece's rebel economist, is now one of the country's wealthiest politicians.
After being removed from a left-wing government in which as finance minister he became too radical, Mr Varoufakis wrote a book and built a media and speaking career that has proved so lucrative that he has bank accounts in Switzerland, a property portfolio and a boat.
His income in the past three years was €1 million, his tax returns have shown. Critics accused him of profiting from Greece's misery and being a champagne socialist.
Mr Varoufakis, 58, who appealed publicly for Greeks to adopt "humble and frugal" lifestyles during the financial crisis, leads MeRA25, an anti-austerity party that won its first seats in July. As such he is required to disclose assets and earnings, which showed that he was making far more than other party leaders. The professor of game theory entered Greek politics in 2015, becoming the face of the left-wing government and its defiant strategy against debt negotiations with European leaders and international lenders at the height of the country's financial crisis. His brinkmanship led to banks being closed and queues at cash machines.