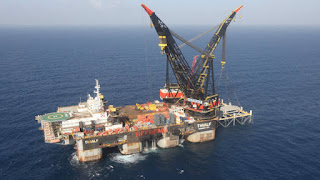 by Ilan Ben Zion & Ayla Jean Yackley

Financial Times
January 2, 2020
Israel, Greece and Cyprus are set to sign a trilateral agreement that will lay the groundwork for a planned gas pipeline connecting Israel's offshore fields with Europe but which risks raising tensions with Turkey over what Ankara sees as its exclusion from the Mediterranean region's hydrocarbon boom.
The €6bn EastMed pipeline project, which will link Cyprus and Israel's offshore gas reserves to mainland Greece and Italy, bypasses Turkey and aims to provide an estimated 10 per cent of Europe's natural gas.
Benjamin Netanyahu, Israel's caretaker prime minister, Kyriakos Mitsotakis, the Greek prime minister, and Nicos Anastasiades, the Cypriot president, will sign the deal in Athens on Thursday.
Israel has developed close economic and security co-operation with Greece and Cyprus over the past decade. Discovery of natural gas, and the countries' mutual interests in getting it to market, have helped deepen their ties.