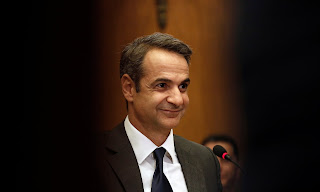 by Helena Smith

Guardian
July 13, 2019
It's been barely a week but Greece's new prime minister, Kyriakos Mitsotakis, has hit the ground running. Assuming power on Monday, the New Democracy leader announced parliament would not be going into recess for the summer: there was no time to waste, and bills had to be drafted.
By Wednesday, as his cabinet of established politicians, technocrats and ex-socialist reformers convened for the first time, the philosophy of his centre-right government became clearer still: ministers would not only set targets, they'd be monitored too. Placed before them were blue folders containing benchmark goals. As in any good business, progress reports would have to be kept.
In an era where appearance is everything, Mitsotakis, a former banker, has gone out of his way to set a new tone after four-and-a-half years of often rollercoaster rule under his leftwing predecessor Alexis Tsipras.
Police vans and barriers – which had come to represent the Tsipras government's fear of protest – have been removed from the road approaching the prime minister's office.
For many Greeks the new style is not just symbolic. Their first post-bailout government is viewed as the beginning of a new era; the crossing of a psychological threshold after a decade of austerity-driven depression, bailouts, extremist splinter groups and near bankruptcy on the frontline of Europe's debt crisis.
"What we are seeing is a fresh generation of politician, Harvard-educated, result-oriented and with a more technocratic approach coming to the fore," Pantelis Kapsis, a prominent political journalist, says of Mitsotakis.