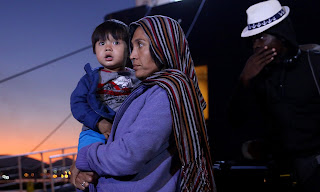 by Jules Montague

Guardian
October 6, 2019
Ayesha is nine years old. As her father lays her down gently on a mattress at the clinic, the only perceptible sign of life is the slow movement of her ribcage as she breathes in and out. She otherwise remains almost motionless, in stark contrast to the other children who run around this Médecins Sans Frontières (MSF) paediatric clinic by Moria camp.
For two weeks now, Ayesha has not opened her eyes. She has not spoken. She has not walked. She has what the mental health team believe could be one of the first cases of resignation syndrome it has seen here.
I'm in Lesbos researching the psychological effects of trauma in these children who have often fled violent conflict in their home countries, only to arrive at a squalid camp where conditions are chaotic and inhumane. I quickly realise that Ayesha's state embodies what can happen when a child loses all hope.
Resignation syndrome represents a state of extreme withdrawal that can last for months or even years and occurs in the context of severe psychological trauma. Hundreds of cases have been seen in Swedish refugee and asylum-seeking children, with others reported at Australia's offshore immigration detention centre on Nauru. These children simply close their eyes and stop speaking, eating and drinking, their muscles wasting away. Children who were perfectly well weeks before need to be dressed in nappies and tube-fed. The prognosis is uncertain, but those who do recover often only do so when they and their family reach a place of stability, especially if their residency status becomes secure.