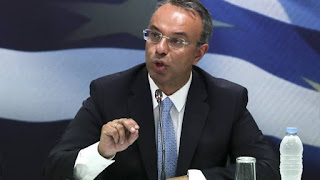 by Kerin Hope

Financial Times
August 18, 2019
Greece's new finance minister has said that implementing sweeping tax reforms will be his "key priority" as his country seeks to boost growth and rebuild credibility with investors following a decade of international bailouts backed by the EU and IMF.
Christos Staikouras told the Financial Times that the centre-right New Democracy government is planning "a comprehensive tax reform that will have a four-year horizon and will accelerate growth".
The overhaul will focus on reducing income and corporation tax, cutting VAT, streamlining tax incentives for investors and abolishing emergency levies imposed during the Greek debt crisis to meet conditions set by bailout creditors.
"The fundamental objective is to achieve sustainable high growth rates so as to gradually restore the country's lost wealth," Mr Staikouras said in his first interview with a foreign media outlet since he took office after last month's election.