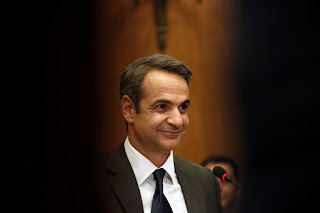 by Yannis Palaiologos

Washington Post
July 10, 2019
Sunday's parliamentary elections amounted to a stinging defeat for both left and right populism in Greece. After a long slog in bailout purgatory, and 4½ years under a populist government of the hard left and the nationalist right, Greeks turned decisively to the establishment center-right New Democracy party, led by Kyriakos Mitsotakis. Now it is up to the new prime minister to deliver the reforms that will permanently consign the forces of extremism to the margins.
Ousted prime minister Alexis Tsipras, leader of the leftist Syriza party, came to power promising to end austerity and rid the country of the endemic corruption of the old political system. Tsipras's defeat is a testament to his failure on both those fronts — and indicative of the struggles of populists everywhere to turn their simplistic and overblown campaign rhetoric into practical political reality.
Sunday's returns were also disastrous for the Golden Dawn, a racist party with Nazi roots that became Greece's third-largest party in 2015, even though its leaders had been arrested for running a criminal organization. (The trial is still ongoing.) This time, the group failed to cross the 3 percent threshold and make it into Parliament.
It was another sign of the resilience of Greek democracy, which was severely tested by the deepest depression ever faced by a developed country in peacetime, in a period of resurgent authoritarianism in Europe and the world. As the various populist myths about the causes and possible solutions to Greece's crisis have been revealed as delusions and outright lies, the fuel that sustained extremism has been depleted.